Alfred hínuu díi kya'áang
(My Name Is Alfred)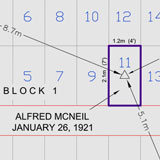 While in the process of remapping the cemetery at Woodlands, I was contacted by Lisa Donaldson who, after many years of genealogical research, had traced a long lost relation there. Working with her to locate the actual burial site I learned the story of her great-great-grandfather Alfred McNeil.
Alfred was born in 1838, the son of William Henry McNeil, the first captain of the Hudson's Bay Company's SS Beaver, and his wife Matilda, the daughter of a Kaigani Haida chief. Lisa told me how, after a long and eventful life, Alfred became separated from his family and died alone in 1921, at age 83, in what was then the New Westminster Mental Hospital. Alfred's life story is but one of the thousands of stories that have been buried here amongst the bones at Woodlands. For me, Alfred McNeil's story has put a human face on what otherwise might remain just a database of names and numbers.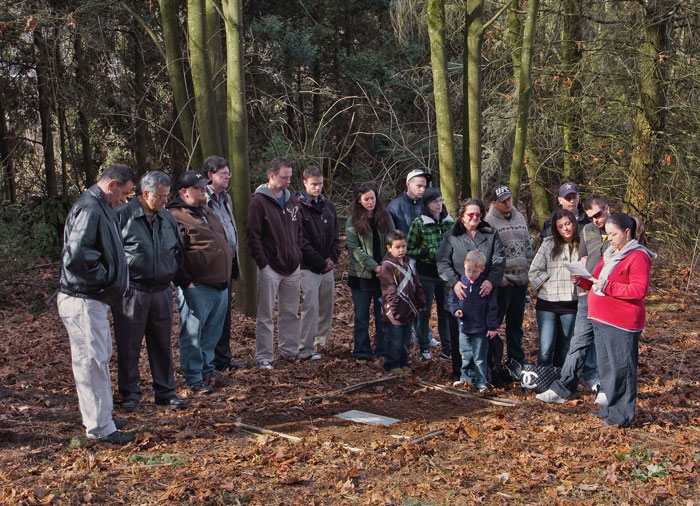 In order to honour Alfred and close a gap in their family history, Lisa and Alfred's living relations, many of whom are of Haida ancestry, were joined by New Westminster Qayquat band member Robert Bandura, on this traditional Qayquat territory in a ceremony to mark Alfred's grave and share the story of his life. My Name is Alfred is the title of Lisa Donaldson's biography of her ancestor. It is also the title of my photographic work which records this historic act of repatriation.
Click here to read Lisa Donaldson's telling of Alfred's story.