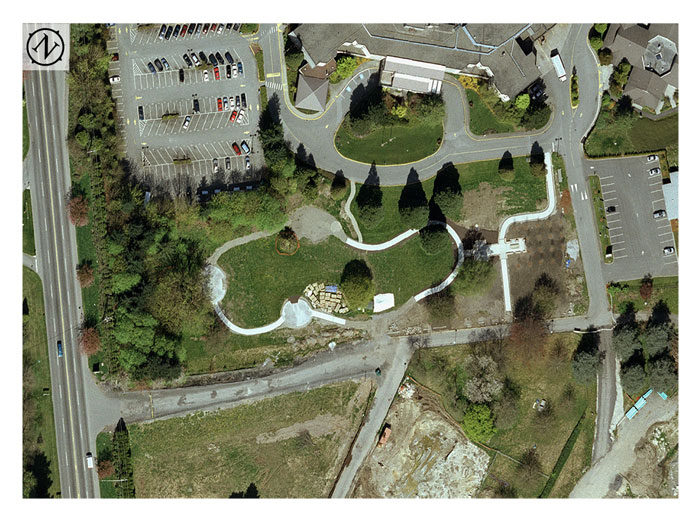 For 27 years, from 1979 to 2006, the re-landscaped cemetery / park, stripped of its markers, was in effect a mass grave for the thousands of people buried there. In 1999 a group of activists and advocates met to share their concerns about what had happened to the cemetery in the past and what might happen in the future as a result of the re-development of the Woodlands site. Out of this concern the Woodlands Cemetery Restitution Steering Committee was formed. The committee was composed of advocates for the mentally handicapped, government officials responsible for the cemetery / park property management , a Queen's Park Hospital representative, a former resident / survivor of the Woodlands School, family members of persons buried in the cemetery, a local historian and heritage consultant, and a landscape architect specializing in cemetery transformation. The group met regularly for a year to consider new options for the cemetery / park. Ideas ranged from a full restoration (including the installation of replica headstones) to the creation of a landscaped memorial park which would include monuments displaying recovered headstones and memorial plaques.
In reaching a decision the Restitution Committee considered: the needs expressed by the Queens Park Hospital Society for their elderly patients; the British Columbia Buildings Corporation concerns regarding the effect of any reconfiguration of the cemetery on future business dealings with potential developers of the remaining 65 acres former woodlands site; issues of respect for the ex- residents of woodlands, those buried at the site and their families; and finally the heritage value of the cemetery to the community of New Westminster. The committee concluded that the "memorial garden concept" would provide a solution which would satisfy everyone concerned.
The 2006 aerial photograph captures a transitional moment. The upper portion of the former cemetery has been partially absorbed into the maturing landscape of the Queen's Park Care Center and the land adjacent to its lower boundary, the former Woodlands site, has been cleared of buildings in preparation for new residential development. On the 2.2 acre cemetery / park site itself, the meandering walks and monument footings for the memorial park are being constructed. The cream colored rectangular shapes near the new walkway at the lower part of the cemetery / park are pallets on which are stacked 426 grave markers recovered from various '70s-era construction projects and storage sheds on and off the former Woodlands site.